" Learn ceaselessly,
Get the best out of you "
Has your business achieved maximum potential in screen printing!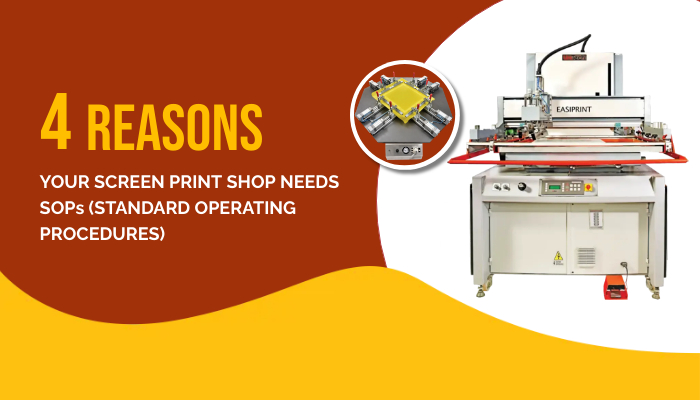 Has your business achieved maximum potential!
Standard operating procedures provide the policies, processes and standards needed for the organization to succeed. They can benefit a business by reducing errors, increasing efficiencies and profitability and producing guidelines for how to resolve issues and become more profitable.
4 REASONS YOUR SCREEN PRINT SHOP NEEDS SOPs STANDARD OPERATING PROCEDURES
1. TO REDUCE LABOUR COST
2. TO REDUCE COST OFF PRODUCTION
3. TO REDUCE REJECTION OR WASTAGE
4. TO TRAIN YOUR LABOUR i.e NEW OR EXISTING
Many printers feel their businesses have achieved the maximum potential for productivity and profitability, but the truth is that they do not know what that maximum potential. Without consistency in screen making, you will find that your profits also will become intermittent.
Applying SOPs bring repeatability to this crucial prepress function. Identifying and implementing standard operating procedures in the screen making department is easy. But maintaining those standards, especially when production picks up, is quite difficult. Failure to adhere to standard procedures in the screen room can lead to down time on press due to screen-quality problems thus total loss of production efficiency through out the workflow.
Every printing machine (even the same make and model) will have a slightly different print characteristic. On press, 80% of all production problems are caused by improper setup. Consistent setup is crucial, and the only way to get it is through SOPs.
How to design your SOPs - Recipe for productivity
The operating procedures you write for your facility should be easy to read and follow

Be consistent in its format for better inter department communication

Experienced employees and new workers a like should be able to read the step-by-step

instructions and execute all tasks for a job with a minimal amount of additional instruction.

Use tables, flowcharts, graphics and photos for quick understanding

You also should have the procedures translated into any other languages spoken by your management or staff

Make periodic review process as you encounter new challenges

Setting up for success
Although establishing and implementing standard operating procedures within your screen printing business can help maximize quality, stream line the workflow, and enhance productivity. Once you implement your procedures and make them a standard part of your daily production routine, you should immediately begin to see the benefits.