" Learn ceaselessly,
Get the best out of you "
TEXPRINT SHUTTLE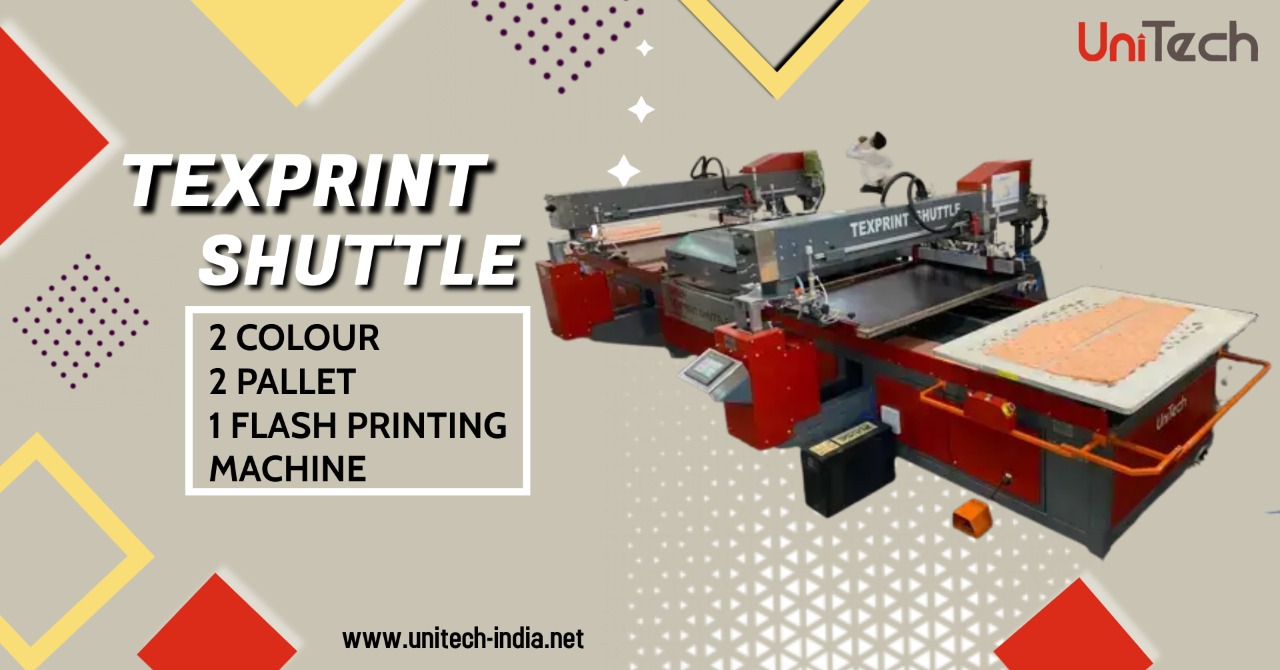 TEXPRINT SHUTTLE
2Colour/ 2Pallet/ 1Flash Printing Machine
The system is designed and engineered for the TEXTILE PRINTERS of the present and future for high quality, large printing requirements.
The simple but heavy-duty construction makes it easier to use and virtually maintenance free. The TEXPRINT SHUTTLE is programmed with: 5 PRESET MODULES which makes the operator's job easy. The module can be selected according to your design, number of colours and number of operators available.
Innovative pallet transfer design makes our machine versatile, fast maintenance free.
Number of stations - 5 nos
1. Loading-Unloading-PALLET 1 home position
2. Printing Station
3. Flash cure Station
4. Printing Station
5. Loading-Unloading-PALLET 2 home position
Number of print stations 2 nos
Numbar of flashcure 1 no. 36 KW
Print areas (cm/inch) 900 * 1200 / 36 * 48
Air pressure minimum 6 bars
Electrical supply 3 phase
Registration accuracy < 0.25mm (Servo indexing + Pallet pin)
Rec. frame profile 40mm * 65mm / 1.5" * 2.5"
Max. frame size: 1100mm * 1400 / 44" * 56"
Max. production capacity (140 pieces/h)
Machine size in MM: 6400(L) * 2700(W) * 1600(H)
Power: 3 Phase 35 kw