" Learn ceaselessly,
Get the best out of you "
Unitech skill challenge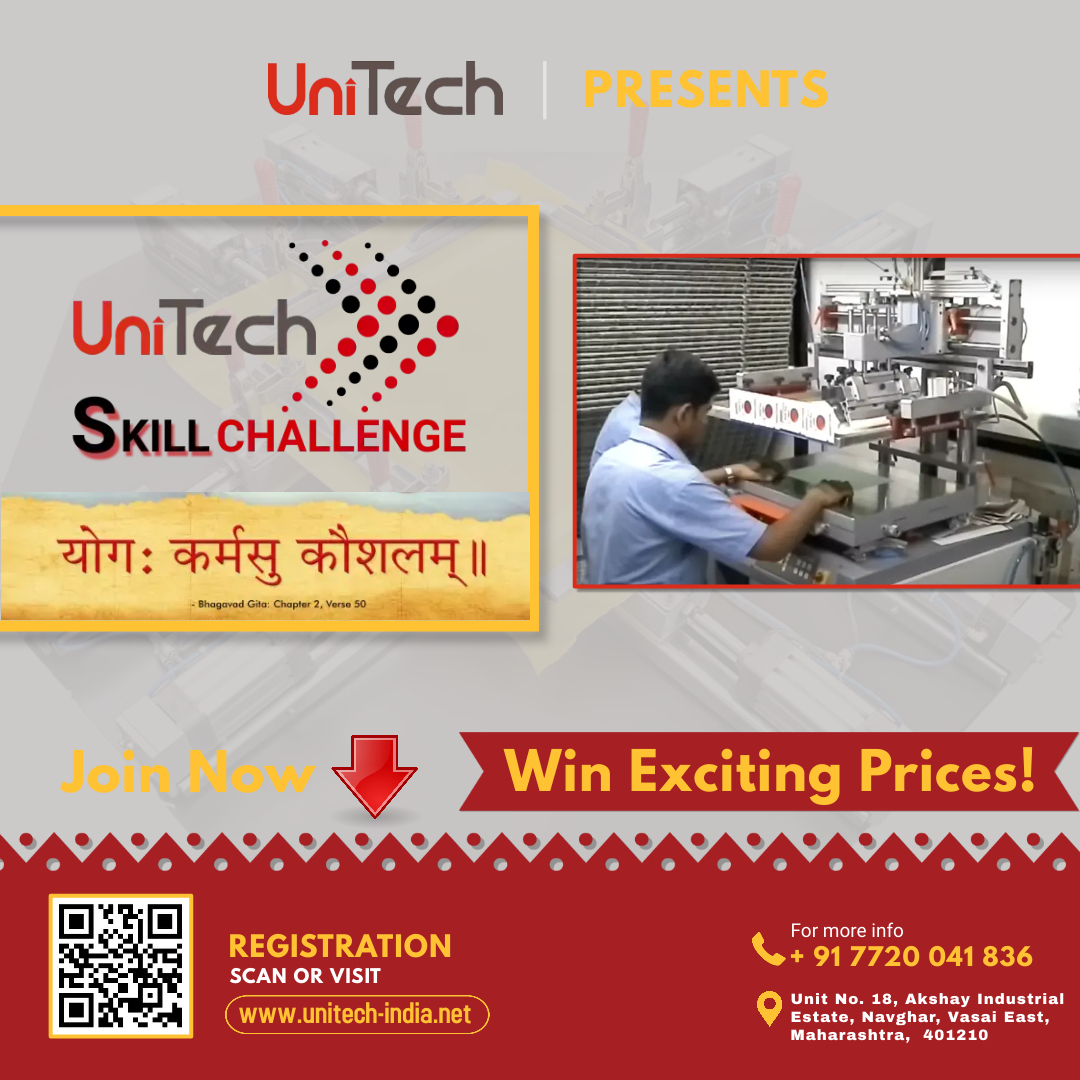 Unitech presents the Unitech skill challenge. It is one of its kind initiatives from us to take the screen printing industry to the next level.
If you want to be a part of the challenge, connect us now!
Following are the answers to your initial queries. Do not hesitate to contact us for any more queries:
1. WHAT IS UNITECH SKILL CHALLENGE (USC) ?
Every screen printing process even after selecting the right tools, raw material, chemicals, equipment needs lots of human skill. The AIM of USC to grow a great screen printer
2. WHY WE NEED THIS SKILL CHALLENGE ?
HOPE IS ETERNAL still your customers give you deadlines. Your customer expects great quality print, quicker delivery at lowest cost. USC targets these specific problems of the screen printing business.
3. HOW WILL WE ADDRESS PROBLEM ?
This challenge brings out hidden talent and potential capacity of your people as well as your workshop.
4. HOW EMPLOYER/EMPLOYEE GETS BENEFITED?
You get an opportunity to set a benchmark on quality, speed of production, rejection ratio. Now the employer - employee team can set a benchmark for your company. After skill assessment every participant will get online training and skill enhancement support.
5. WHO CAN PARTICIPATE ?
One entry consists of a Screen printer or team of screen printers (max. 2 persons) with consent from the owner of the screen printing workshop. You can fill multiple entries from one company.
6. WHERE WE WILL CONDUCT CONTEST ?
Printing contest will happened in your own printing workshop.
7. WHEN WE WILL CONDUCT CONTEST ?
We will declare USC week soon. Design will be emailed on 1st days of the week and one week and need to be submitted in one week (i.e details mailed on MONDAY morning & Saturday is last day for submission)
8. WHAT ARE THE CRITERIA FOR WINNERS
Unlike awards competition, USC is about your business profitability. USC is not just focussed on print quality and sharpness, we consider parameters like delivery time, wastage percentage, house keeping, understanding of process, etc. It's all about your customer experience.